YOUNG ROOTS ENTREPRENEUR HONORED WITH EXCELLENCE AWARD
Shahegan Hamza, the youngest entrepreneur of Roots Entrepreneurial Society (RES) of Roots School System DHA-1 campus, Islamabad received the Excellence Award of Shalimar Group from His Excellency Yousaf Raza Gillani, Prime Minister of Islamic Republic of Pakistan on the 24th Award Distribution Ceremony of Rawalpindi Chamber of Commerce & Industry.  The Prime Minister appreciated the Roots Entrepreneurial Society in collaboration with the Rawalpindi Chamber of Commerce for taking such an initiative during Pakistan's critical economic situation and congratulated the president of RES, Shahegan Hamza on the enormous success of Roots business Olympiad and its dynamic business projects.
Executive Director of Roots School System DHA-1 campus, Islamabad, Khadija Mushtaq congratulated Shahegan Hamza on his brilliant achievement. At Roots, young entrepreneurs and industrialists working for the betterment of Pakistan are always encouraged and motivated.
Shahegan became the young Director of Shalimar Mines after he joined his father's well established Shalimar Group Of Companies. Shalimar Mines is a private limited company that is now a leader in the extraction of precious stones from different areas of Pakistan. Pakistan receives revenue worth billions of dollars per year from the extraction of precious stones, semi precious and ornamental gemstones. Shalimar Mines' main focus of gemstones includes White Onyx, Granite, Peridot and Aquamarine. With such high quality of extraction of precious stones, Shalimar Mines intends to boost the economy of Pakistan. Shahegan shared his views with Prime Minister regarding the current economic situation and proposed different projects regarding information technology. Prime Minister admired his knowledge and accepted his invitation of inaugurating his new company.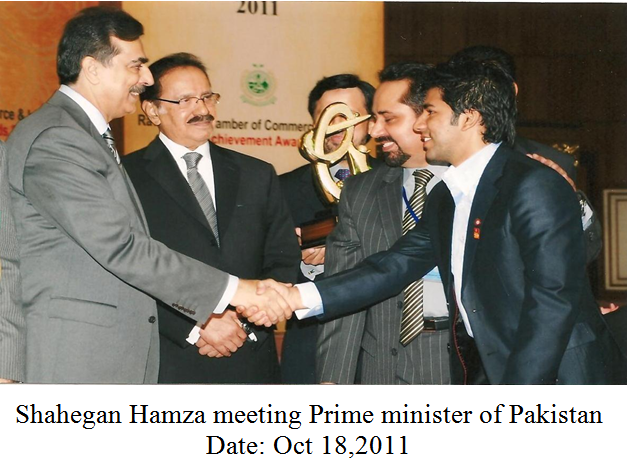 In the Picture: PM awarding the Excellence award to young entrepreneur Shahegan Hamza of Shalimar Group
Prime Minister: Yousaf Raza Gillani
Federal Commerce Minister: Makhdoom Ameen Faheem
Former SVP RCCI: Mian Ateeq Sheikh