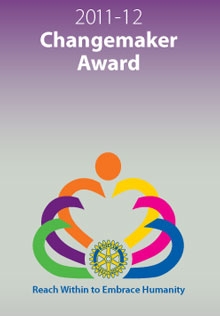 RI President-elect Kalyan Banerjee will introduce a new recognition, the Changemaker Award, to accompany the Presidential Citation during the 2011-12 Rotary year.
Banerjee, who said he will encourage Rotarians to focus on change, explained that the Changemaker Award will recognize Rotary clubs that make an extraordinary impact through their work in the Avenues of Service.
To qualify, clubs will choose from a menu of activities and complete a minimum number for each avenue. All activities must be undertaken and completed between 1 July 2011 and 1 March 2012. District governors will select three clubs in the district -- the top-performing small, medium, and large clubs -- to be entered into a zone and international competition, culminating in the opportunity to be recognized onstage at the 2012 RI Convention in Bangkok, Thailand.
Activities include demonstrating a net gain in membership over three straight years (2009-12) for Club Service and conducting a career counseling or vocational training program in the community for Vocational Service.
The 2011-12 Presidential Citation will recognize achievements related to membership development and contributing to The Rotary Foundation, and will feature club and district recognition categories. The top 15 districts and 15 clubs certified by governors and validated by RI will be recognized onstage at the 2012 convention.
Clubs will select from criteria such as increasing the number of younger professionals in the club by 2 percent and inducting RI or Rotary Foundation program alumni. Districts will choose from a variety of goals, including 100 percent participation in the Annual Programs Fund.
For Banerjee, the Changemaker Award and Presidential Citation reinforce the work of each Rotarian throughout the year to make the world a better place through service.