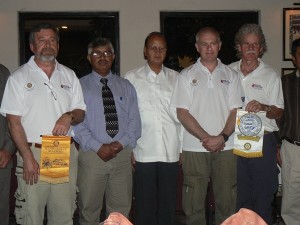 Members of Disaster Aid International Rotarian Eb Friedrich, IPP of RC of Woodend, Australia, Rotarian Hans van Dyk, Past President of RC of  Endeavor Hills, Australia and Mr. Andrew Gunn were the guest Speakers at Rotary Club of Rawalpindi Regular Meeting at PC Hotel, Rawalpindi on 4th October, 2010.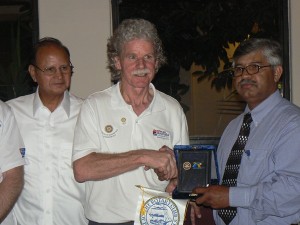 Disaster Aid International is providing an innovative humanitarian aid package to the Flood Affected people of Pakistan for a new start in family units within their communities.
The Disaster Aid International Family Survival Pack contains a dome tent complete with blankets and equipment needed to rebuild lives with hope and dignity.
The Family Survival Pack tents can also be connected together to form schools, first aid stations or even a community centre.
The Sky-juice Foundation water filtration system delivers up to 10,000 liters of clean water a day, is transportable and has a life span of 10 years. It is ideal for a village, hospital or school and there are no chemicals!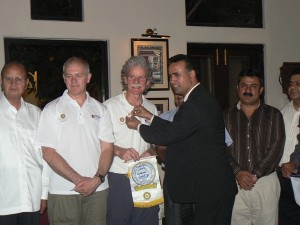 Rotarian Eb Friedrich, Rotarian Hans van Dyk and Mr. Andrew Gill, All are Disaster Aid Response Team members (DART) and their work here in Pakistan is to ensure, the disaster aid tents and equipment which has been paid for by donors is delivered to the people most in need. The Guest Speakers gave a briefing on their work for the relief of Flood Affected People.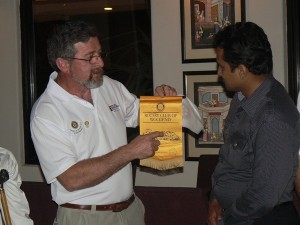 President Muzzammil Ahmed Zahid gave Shields to the Guest Speakers, Secretary Rashid Mashkoor exchanged Club Flag with The Guest Speakers and IPP Munir Ahmed awarded Rotary Club of Rawalpindi Badges to the Guest Speakers.