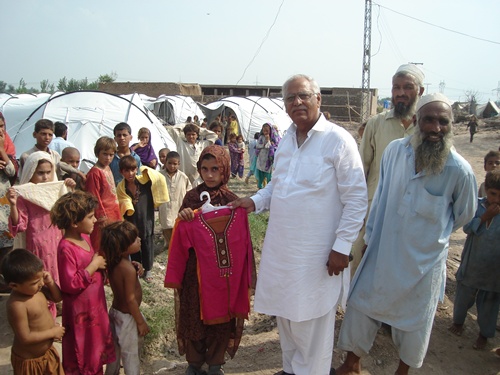 11th September, 2010 was the first occasion when the homeless children had to spend day without any celebration under the open sky, without any "eiddy" and new clothes of Eid. Rotarians from all over the country were categorically appealed/requested to spend this day with Flood Affected children to give them the feelings that they are not alone and whole country is with them to share their sufferings.
Alhamdulillah, this appeal was honored with a great enthusiasm. Almost, all the rotary clubs spent this day with the children of affected areas and distributed gifts, clothing, eiddy, bangles etc among these children according to their capacity. Some of the clubs arranged puppet and magic shows at their camps to enlighten them.
Rtn. Haji Iftikhar Ahmed (Chair Disaster Relief)
of Rotary Club of Rawalpindi visited the Rotary Village at Dera Kai, Aman Kot and Akora Khatak  on this first day of Eid and spent time with the homeless children in the village. Eiddy and Mithai was distributed among these children . This token of Eid was very much enjoyed by the children and they were very happy. It has been the efforts of all the Rotarians to make all suitable arrangements to make the effectees more and more comfortable and this was one of the  activity to achieve that goal.