GRANT OF EURO 5000 FROM ICC ROTARY GERMANY FOR FLOOD AFFECTED PEOPLE – SECOND VISIT
The camp was held at Village Dera kai, Aman Kot, District Nowshera, Province Khyber Pakhtoonkhwa on 01-02-2011. Three Current DGs
Rtn. Roger Percival, DG District 1040   (United Kingdom)
Rtn. Amanda Watkin, DG District 1260 (United Kingdom)
Rtn. Shahzad Ahmed, DG District 3272 (Pakistan & Afghanistan)
distributed goods among the flood victims.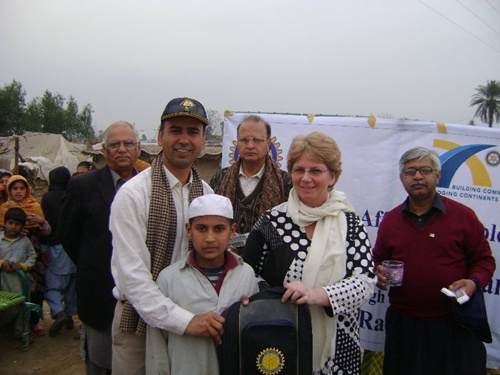 Other Rotarians who participated in the camp were :
Rtn. Iftikhar Ahmed Deputy Governor, District Chairman Disaster relief  RC Rawalpindi
Rtn. Muzzammil Ahmed Zahid, President RC Rawalpindi
Rtn. Manzoor Hussain Malik,  Regional Chair Poverty Alleviation RC Rawalpindi
Rtn. IPP.Munir Ahmed, Chair North WCS RC Rawalpindi.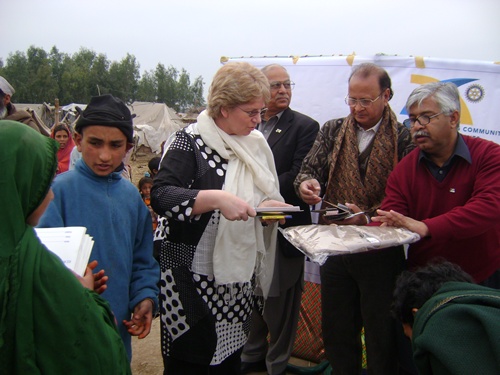 The Relief Items that were distributed were:
flour 150 Bags,
School Bags 250 (with Rotary Logo)
Copies for Students  (1000 with Rotary logo)
Lead pencils 250
Pencil Sharpeners 250
Rubber eraser 250
Foot Ruler 250
Color pencil 250
Vaseline 150 packet
Woolen sweater 75
On behalf of Flood Affected People and RC Rawalpindi, I thank our Rotary Fellows ICC Rotary Germany for providing grant of 5000 EURO for the betterment of Flood Affected People of Pakistan. This is indeed a great contribution in the time of need.
Kind Regards.
Your's in Rotary
Rtn IPP.Munir Ahmed
Chair North WCS RC Rawalpindi