GRANT OF EURO 5000 FROM ICC ROTARY GERMANY FOR FLOOD AFFECTED PEOPLE - FIRST VISIT
We went to Dera Kai, Aman Kot, District Nowshera, Province Khyber Pakhtunkhwa and delivered 175 Quilts among the flood affected  families. The list of the families was already prepared and they were delighted to have them since the temperature is coming down with the cold wind blowing from the north.
We also took over 300 goodies bags to deliver amongst the children and they were delighted to have them. We were,
Rtn. Iftikhar Ahmed Deputy Governor, District Chairman Disaster relief  RC Rawalpindi
Rtn Manzoor Hussain Malik Regional Chair Poverty Alleviation RC Rawalpindi
Rtn IPP.Munir Ahmed Chair North WCS RC Rawalpindi
We also fined out their further requirements so that we can make arrangements to provide them in the near future. We took some photographs and are attached herewith.
We also sent invitation to Excellency Michael Koch Ambassador of Germany in Pakistan  to participate in this activity or nominate another person.Regarding this i have telephonic conversation with Miss Sabine Martinez, she told me that due to Christmas no one is available.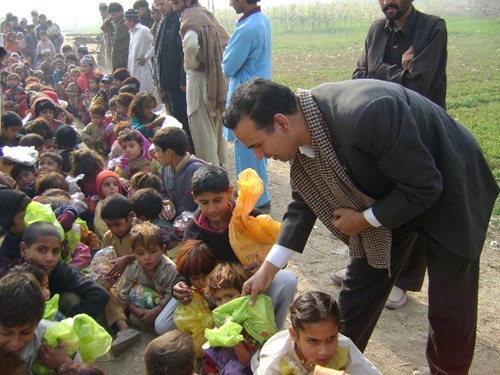 On behalf of Flood Affected People and RC Rawalpindi, I thank our Rotary Fellows ICC Rotary Germany for providing grant of 5000 EURO for the betterment of Flood Affected People of Pakistan. This is indeed a great contribution in the time of need.
Kind Regards.
Your's in Rotary
Rtn IPP.Munir Ahmed
Chair North WCS RC Rawalpindi