Innerwheel
News
Inner Wheel Club Rawalpindi – July Activities
Summary
Inaugural Ceremony 2012 Held on 12th July the venue was Tabassum Tanvir's residence and was a well attended meeting. The meeting started at 6pm. The weather had become very pleasant after the first monsoon rain and the garden […]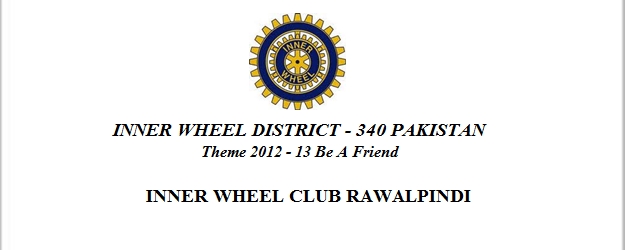 Inaugural Ceremony 2012
Held on 12th July the venue was Tabassum Tanvir's residence and was a well attended meeting.
The meeting started at 6pm. The weather had become very pleasant after the first monsoon rain and the garden party meeting was a wonderful get together.
 After the recitation of the Holy Quran; National Anthem and I.W prayers the past president gave her report for the year in which donation for the flood victims, clothes for blinds, increase of teacher's pay at Tarnol school, support for 65 blind pupils was worth mentioning. Along with the continuation of existing projects, new project ideas were floated.
 The new executive Committee was welcomed by Inner Wheel collars. The welcome address was given by President Safia Naseem. She thanked Dr. Akhtar Jan (Past President) for her exemplary performance. The hostess Mrs. Tanveer was offered vote of thanks and a delicious menu for tea. Drinks and ice cream with mangoes was a lovely wind up before Maghrib prayers.
Visit to Darakshan, July 31st 2012
Each year during the month of Ramzan clothes are distributed for the disabled girls at Darakshan by I.W club of Rawalpindi. This year in the scorching summer heat; past National Rep. Mrs. Rubina Haroon, Mrs. Musarrat Aman, Past club secretary Mrs. Tehreem Murad and club secretary Mrs. Masooda Ejaz visited the centre which has moved further down the village, Morgah.
On reaching the centre it was a pleasant surprise to see the new building with its lush green lawns, spacious, well lit and well ventilated rooms. The ladies of Darakshan were busy with their sewing machines, embroideries, brail reading, learning the Holy Quran, working on audio equipment for blinds which showed how progressively they are overcoming the difficulties life had to offer them.
Handicrafts were on display and this gave all a chance to go for a shopping spree.
Wish you a happy Ramazan and a great Eid ul Fitr Darakshan.