Club Administration
Leadership
Membership
News
Public Relations
Installation Ceremony 2018-19
Summary
66th Installation Ceremony of Rotary Club of Rawalpindi was held at Pearl Continental Hotel, Mall Road, Rawalpindi on 22nd July 2018. Mr. Zahid Latif Khan (President Rawalpindi Chamber of Commerce and Industry) was the Chief Guest at the occasion. A […]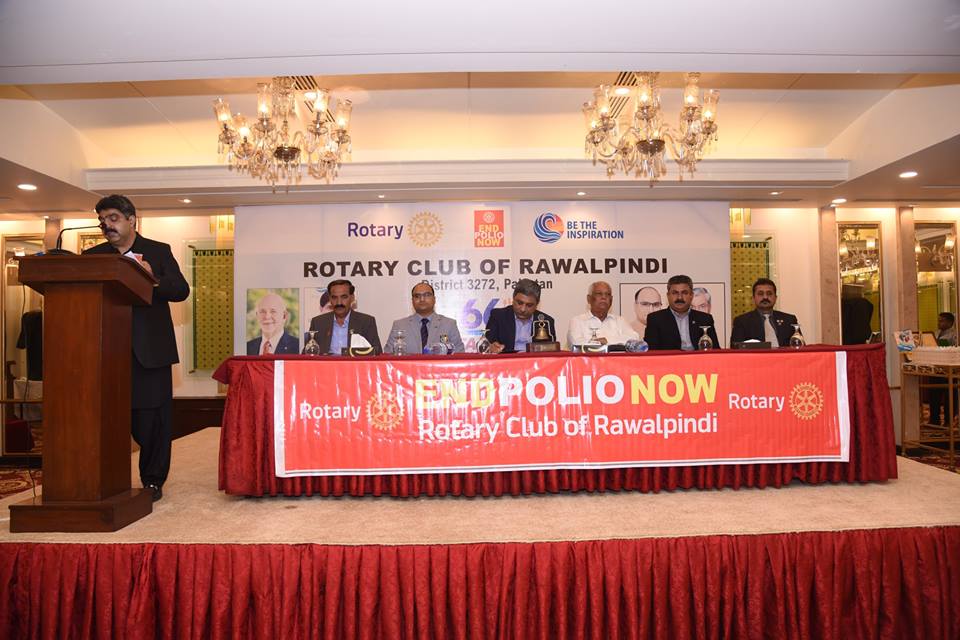 66th Installation Ceremony of Rotary Club of Rawalpindi was held at Pearl Continental Hotel, Mall Road, Rawalpindi on 22nd July 2018.
Mr. Zahid Latif Khan (President Rawalpindi Chamber of Commerce and Industry) was the Chief Guest at the occasion. A large number of Rotarians from other Clubs of the District graced the occasion by their presence.
Ms. Tayyaba Mujahid initiated the ceremony and handed over the charge of Master of Ceremony to PAG Nosherwan Khalil Khan after the recitation of Holy Quran and National Anthem.
PP. Rtn. Munir Ahmed Tanoli presented the Club history report of RC Rawalpindi.
AG Rashid Mashkoor paid tribute to the Late Legends of RC Rawalpindi by presenting memorial service for the deceased.
IPP Rtn. Jamshed Ahmed Abbasi presented the Club Report of activities carried out in 2017-18.
A report and video on Polio Eradication was presented by PAG Rtn. Nosherwan Khalil Khan. A congratulatory video message of Rtn. Susanne Rea for RC Rawalpindi was also played.
Outgoing President Jamshed Ahmed Abbasi presented the President's collar to incoming President Mujahid Saleem.
President Mujahid Saleem in his speech briefed the audience on his future projects.
After the speech, Board of Directors of RC Rawalpindi for RY 2018-19 were announced.
PP. Rtn. Waseem Riaz Malik gave introduction of the Chief Guest. The Chief Guest of the ceremony Mr. Zahid Latif Khan congratulated RC Rawalpindi for the wonderful work done for the community and wished success in future endeavours and assured the club of RCCI's full support in future also.
Shields were presented to members of RC Rawalpindi who performed outstandingly in 2017-18 and to friends of RC Rawalpindi who supported the Club whole heartedly.
Vote of thanks was given by PDG Haji Iftikhar Ahmed. The event was well conducted by PAG Rtn. Nosherwan Khalil Khan.
The guests and members enjoyed the musical entertainment and delicious Dinner at end.