Young Prodigies Scholarship for students aged 10-12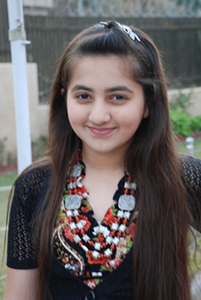 Congratulations Neha !!!
Neha Omair is the President of Interact club Roots School System DHA 1 Rawalpindi. The Rotary club Rawalpindi sponsors the Interact club Roots School System.
In acknowledgement and appreciation of her community service and excellent academic and extra curricular achievements, she has been awarded 100% scholarship by the Oxford Royal Academy (University of Oxford).
She has been proclaimed as the topmost applicant to the scholarship program where an enormous number of applications are received every year for scholarships.
She has a keen interest in international relations and the promotion of global peace, and is very active President of Interact Club Roots School System. Aged only 11, Neha is also president of the Liberating the Girl Child foundation (LGCF) which focuses on female literacy and empowerment of girls. For her work, Neha has received a letter of appreciation from the Pakistani ministry of Youth Affairs.
Please click on the link below to read the Oxford Royale Academy (ORA) report about Neha's Summer Scholarship at Oxford.