Club Administration
Leadership
News
Polio Eradication
Public Relations
Intercity Meeting – Michael K. McGovern
Summary
Intercity Meeting in honour of Michael K. McGovern was held on 29th June 2016 at PC Hotel Rawalpindi hosted by Rotary Club of Rawalpindi. Ms. Carol Pandak, Rtn. Judith Diment, DG  Sajid Pervaiz Bhatti, DGE Mir Arif Ali, DGN Faiza Qamar, PDG […]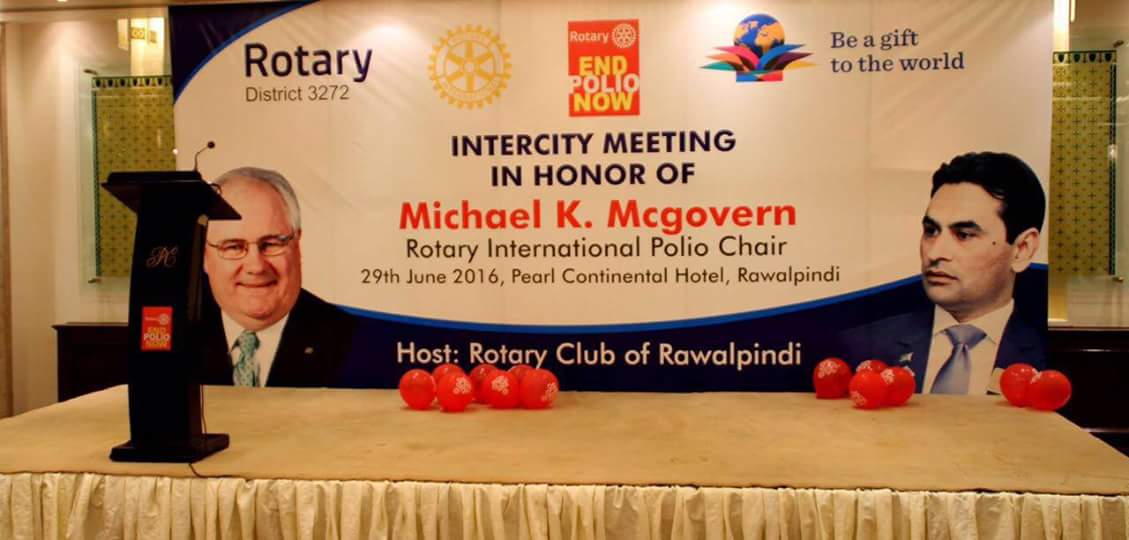 Intercity Meeting in honour of Michael K. McGovern was held on 29th June 2016 at PC Hotel Rawalpindi hosted by Rotary Club of Rawalpindi.
Ms. Carol Pandak, Rtn. Judith Diment, DG  Sajid Pervaiz Bhatti, DGE Mir Arif Ali, DGN Faiza Qamar, PDG Aziz Memon, PDG Saeed Shamsi, PDG Abdul Rauf Rohaila, PDG Iftikhar Ahmed, PDG Dr. Pervaiz Ahsan Khan, Members of Pakistan National Polio Plus Committee graced the occasion with their presence. A large number of Rotarians more than 200 from the District 3272 (Rawalpindi, Islamabad, Peshawar, Abbottabad, Swat, Bannu, Pindi Bhattian, Faisalabad, Gujrat, Gujranwala, Lahore) participated in the intercity meeting.
President RC Rawalpindi Taimur Khalil Khan presented souvenirs to the visiting Rotary International Dignitaries.