Club Administration
Leadership
News
Polio Eradication
Public Relations
Rotary Foundation
Service Projects
Polio SNIDs December 2017
Summary
RC Rawalpindi took part in the ongoing SNIDs campaign by organizing Polio drops administration activity at Apex School System, Sanghori Sarwar Shaheed, Tehsil Gujjar Khan on Tuesday 19th December, 2017. More than 30 children under 5 years of age were […]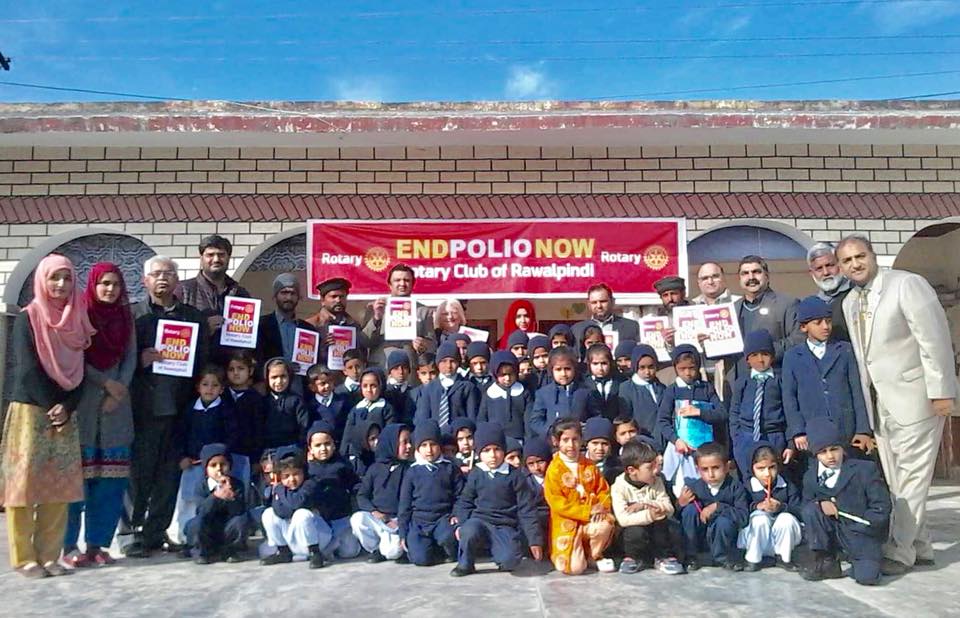 RC Rawalpindi took part in the ongoing SNIDs campaign by organizing Polio drops administration activity at Apex School System, Sanghori Sarwar Shaheed, Tehsil Gujjar Khan on Tuesday 19th December, 2017.
More than 30 children under 5 years of age were given Polio drops. The Rotarians gave Pencils, wrist bands, chips packs and chocolates to school children and also spoke about polio in awareness session. PAG and member PNPPC Nosherwan Khalil Khan, Apex School System Principal Ms. Sadaf Rubab, IPP Waseem Riaz Malik, Rtn. Susanne Rea (WGM Fame), PP. Muzzammil Ahmad Zahid, Rtn. Nauman Abbasi, Rtn. Mujahid Saleem, Rtn. Murad Khan and Rtn. Raja Sher Afzal and the vaccination team with UCMO were present at the occasion.
At the end the Rotarians raised 50$ at the tea time WGMeal Event.