News
RC Baku Khazar – District 2430 Azerbaijan Visit
Summary
First Meeting of Rotary Club of Baku Khazar (District 2430, Azerbaijan) of Rotary Year 2018-19 was held at Park lnn Hotel ,Baku Azerbaijan on 2nd July 2018. President Yusif Elkin Aliyev presided over the meeting. Club members of RC Baku […]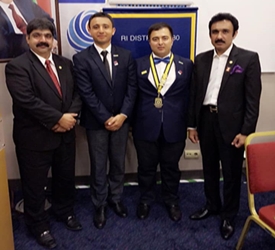 First Meeting of Rotary Club of Baku Khazar (District 2430, Azerbaijan) of Rotary Year 2018-19 was held at Park lnn Hotel ,Baku Azerbaijan on 2nd July 2018.
President Yusif Elkin Aliyev presided over the meeting. Club members of RC Baku Khazar, Rtn. Nosherwan Khalil Khan (District Co-Chair Polio Plus, District 3272) and Rtn.Tariq Mehmood Choudhry(PHF, Member RC Rawalpindi) attended the meeting.
Host club President and Visiting Rotarians exchanged Club flags and RC Rawalpindi Caps and lapel Pins Were also Put on President and Secretary of the Host Club.Honored to be a part of a wonderful fellowship. Thanks to members of RC Baku Khazar.
Click to see the video